Click below for a sample screenshot.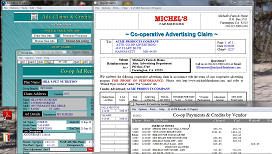 The Toolkit is a complete software system for managing all of your co-op and trade allowance funds.

The Retail Edition was designed specifically to manage and maximize your co-op accruals and market development funds, advertising and co-op claims.

Manage all aspects of your co-op programs. Audit, report and analyze while increasing productivity.

Significant time savings. High performance database provides fast, reliable processing.

Total flexibility. We can tailor the system to your needs.

Simple "point and click" interface makes it extremely easy to use.

Superior customer service with 24/7 hotline support and unlimited training.



Vendor Master File
Maintains details for all vendors, including co-op plan details, accrual and claim details, rebate info, and much, much more. Since all modules are completely integrated, available co-op balances and earned rebates are automatically maintained as purchases are made, ads are placed, and claims are submitted, paid, credited or written off. The system includes a complete set of reporting tools and provides accounting quality auditing capabilities.

Vendor Funds Management
As purchases are downloaded from your purchasing system, the system automatically calculates and posts newly accrued co-op funds and earned rebates. Other transactions, such as MDF commitments or special event funds are also entered and maintained. All the details of your purchases, accruals and other funding commitments are tracked for each vendor.

Ads, Claims, Credits and Collections
The Toolkit's co-op claiming system is highly optimized for tremendous time savings. It tracks and claims all types of advertising and includes a special "Promotion Processor" for rapid entry of complex flyers and catalogs. The system generates emailable claim forms to save time and reduce costs. It leaves nothing on the table with follow up letters for unpaid claims, and "Marketing Support" letters to request funding from vendors who wouldn't otherwise contribute to your marketing efforts.

Management Reports
Literally dozens of reports are available, including Co-op Projections, Plan Status by Vendor, Department, Buyer, Declining Balances, Expiring Plans, and unlimited form Letters and mailing Labels, Claim forms, Claims Registers, Payments, Credits and Writeoff Reports, Detailed ad histories by Vendor, Date, Media and many more. Every report can be customized and all reports can be generated on demand.

Customization
Software modifications and custom integration with your existing accounting systems is available to provide complete automation of your co-op processes. All Toolkit data is easily exported for this purpose.

Easy to Use, and Multi-User Ready
The Co-op Toolkit fully supports multiple users on all Windows-based networks.


---