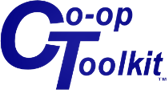 Manufacturer Edition

The Toolkit is a complete software system for administering your company's co-op advertising programs. Get increased control and security.

More cost effective than service bureaus.

Get total flexibility. We can tailor the system to your needs.

High performance database provides fast, reliable processing.

Manage all aspects of your co-op programs. Audit, report and analyze while increasing productivity.

Simple "point and click" interface makes it extremely easy to use.

Superior customer service with "one ring" hotline support and unlimited training.



Accrual Tracking and Processing
Get complete control along with automatic accrual updates. Includes the ability to fax or email statements to dealers. The system can be setup for variable accrual tracking, annual reset or rolling window.

Pre-Approval and Claims Entry Module
Claims entry automatically adjusts dealer accruals. Includes approval letters and forms - all customizable.

Checks, Credits, and Vouchers
Printing and processing will be setup based on your policies.

Management Reports
Complete reporting capabilities including Monthly Statements, Credit / Payment Issued, Pre-Approvals, Market Fund Utilization, Claim History, and more. Every report can be customized to meet your needs. Additional reports are available as required.

Dealer/Retailer Master file
Complete customization included to suit your specific needs and tracking requirements.

Customization
Software modifications and custom interface programming to your existing systems (Accounts Payable, Billing, etc.) is available to provide complete automation of the co-op process.

Multi-User Version
The Toolkit is network compatible with Windows NT and Novell Netware making it a truly scaleable system.